Solar Power Generation
energy
Solar Power Generation
Solar power converts sunlight into energy to produce electricity at your home, and is a very green and economic system for generating power.
Main Benefits
As the electricity you use during the day is obtained through solar power generation, you can save on utility bills.
At times when there is little sunlight you can buy electricity, and at times when there is a lot of sunlight, in addition to using the electricity obtained through solar power, you can sell the surplus power.
You can also use your generated power at the time of blackouts cause by disaster, etc.
TAKAFUJI sells and installs "Ohisama Port" systems, which is one of the most popular solar power generation systems at present.
We also offer "storage batteries" in which the electricity charged overnight when electricity is cheap can be used during the daytime, when electricity is expensive.
Ohisama Port
How about using the parking space in your yard to generate solar power?
Ohisama Port is a very innovative product in which, rather than the conventional installation of solar panels on roofs, solar panels are installed to the car port; it is a very easy system to put in place.
The Ohisama Port platform is manufactured entirely in Japan, and can be installed with confidence.
Not only is it safe, but long term maintenance is also included as standard, and as a product warranty, module output guarantee, and 10 year natural disaster compensation are included, you can use the system for many years with peace of mind.
We recommend it for these kinds of customers: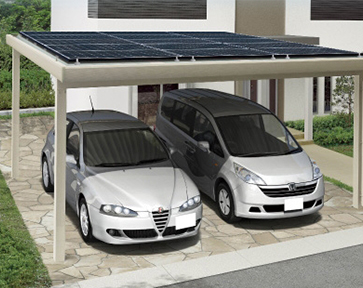 Customers who do not want to install a system to their roof
Customers who do not want to cause detriment to the aesthetics of their home
Customers who want to make effective use of areas such as parking spaces
Customers who already have solar panels on their roof, but who want to increase output
Customers who have a roof shape and direction that is problematic for solar power, resulting in insufficient power generation
Customers who have dismissed the idea of solar power generation for various reasons in the past, why not try installing the "Ohisama Port" solar power generation system? Feel free to get in touch anytime!
Storage Batteries
Storage batteries are able to store the power created by the power generation system, are useful during peak power consumption hours, and serve as a useful preparation for power cuts.
The batteries store cheap electricity at nighttime for use during daytime hours when electricity is more expensive, and are ideal for cutting your electricity bill.
Benefits of Storage Batteries
By storing cheap electricity from nighttime for use during the day, you can cut your monthly electricity bill
Storage batteries can be used as an emergency power supply in the case of power outage due to disaster, etc.
By using power saved to the batteries at nighttime during the day, you can increase the amount of generated solar power that you sell
Handled Storage Battery Manufacturers
・ITOCHU Smart Star 
・4R Energy 
・Kyocera 
・CONNEXX SYSTEMS
Mitsubishi SMART V2H System
Mitsubishi's "SMART V2H" is a system used as a storage battery for operation in an electric vehicle (EV).
The electricity created through solar power generation is stored in the EV, and can also be used as a household electric supply.
It is the first system in the world to realize simultaneous control of three forms of electricity (EV, solar power generation system [PV], and grid supply [electricity from the power company]), and in the same manner as ordinary storage batteries, allows for the electricity generated through solar power systems during the day to be used at nighttime, as well as for electricity to be stored to the EV at nighttime, when it is cheaper, and to be used during the day.
Click here for details
Mitsubishi Electric SMART V2H System Official Site»